Microsoft Released Cumulative Update 6 (KB4012108) for Exchange 2016 today.
This Cumulative Update contains the following:
Download:
Exchange Server 2016 Cumulative Update 6 (KB4012108), Download, UM Lang Packs
The Announcement indicates, that this Release supports .Net 4.7, but the Exchange Support Team is still doing some tests, and you should not install it on your Exchange Servers now.
I leave .Net 4.7 on my WSUS Servers for Exchange and I also blocked the installation in the Registry. Just in case!
A sad thing: There is still an issue on my Windows Server 2016 based Exchange Servers!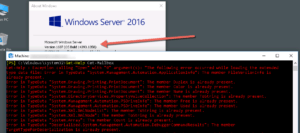 But the good news: My Workaround still works!
I recently published a new PowerShell Module to Maintain Exchange Servers. I used the ExchangeNodeMaintenanceMode to install Cumulative Update 6 for Exchange 2016 on my Servers.
These servers are test systems, and I highly recommend you to do the same.
Or wait at least a few days, or even better a few weeks before deploy it to you regular Exchange Servers. Just in case, this release has some surprises.
You will find my ExchangeNodeMaintenanceMode Module on GitHub and on the PowerShell Gallery! This is my first Gallery Module, by the way.
Microsoft also Published Exchange Server 2013 Cumulative Update 17 (KB4012114), Download, UM Lang Packs!