Last year we announced plans for Microsoft Teams to become the primary client for Intelligent Communications in Office 365, replacing Skype for Business Online over time. Today, we are pleased to announce we have completed our roadmap for bringing Skype for Business Online features and functionality into Teams, and Teams is ready to meet your messaging, meeting and calling needs.
The Article sounds great, and Microsoft Teams is a very good solution! But a few things are (still) missing!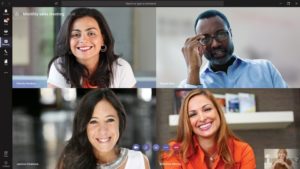 Here are the features that I miss most and that let me use Skype for Business (Online) instead:
Outlook for Mac meeting scheduler – It is available for Windows only
Outlook Web Application (OWA) meeting scheduler – It is available for Windows only
Unified presence in Outlook (and other Office/Office Online components)
Polycom VVX Phone Support (must, at least for me)
Polycom Trio Support (an absolute Blocker for now)
Chat Federation (like Skype for Business have) – I have a huge list of external contacts
Disable Chat for meeting attendees
Mute for all meeting attendees
Click to Dial (tel: on Websites) – Teams is not registered as Call Client, yet
And this is just my point of view. I know that many disagree with my "must" at the Polycom VVX support. Try the Polycom acoustic fence feature on a VVX phone in an open space environment!
We have a few Polycom Trio conference devices (with and without the collaboration kit) in use. For native Teams Meetings, we use it as Broadcast Device (via AirPlay or Miracast), but you need to have a device with a working teams client that can broadcast the content. Works, but non of the cool Polycom Trio features is available then. And the camera quality is not even close to the Polycom Trio capabilities.
At the moment, I use Teams for some meetings. Many are still Skype for Business Meetings, due to the missing Polycom Trio support. Bigger meetings are still Skype for Business meetings because I can Mute all attendees, try this without that feature for >20 attendees!
I use Skype for Business as my main calling solution, for inbound calls. At least as long as I'm in the office and/or home-office. But I use Teams a lot more on the go and to place calls. The codec is awesome. The quality is great, I would say even better then with the Skype for Business Client on the iPhone.
Not a big deal, at the moment I have both clients up and running during my normal business day. Not perfect, but I figured out my way when to use what and when the other one.
And I have many external contacts in my contacts. I love the presence feature… And I use the IM features with federated contacts every days (instead of messenger services or mail). But my use case might be a bit special. After so many years of doing projects with OCS/Lync, and Skype for Business, I have a very bis list of external contacts. And it's part of my daily routine to use it (a lot).
And at least for me, the chat functionality between Skype for Business only and Microsoft Teams doesn't work very reliable! A colleague (Used Skype for only) was shown as "available", so I started a chat and was wondering why nothing came back… He never got any notification, or the well known mail messages from Skype for Business. And we tried that many times after that and most of the time it doesn't work well. So, not reliable! And if you use Outlook Web Application (OWA) you have the same problem: Everyone might see you as "available", but they never reach you.
And after a chat with Polycom a while ago, I was told that they try to bring Microsoft Teams to the Trio and VVX line by the end of the year. And others will also offer there solutions as soon as possible.