Since a while I have a Microsoft Teams Room Device in use. Here are my first impressions and some opinions about it.
My Room System is based on an HP Elite Slice for Meeting Rooms G2 Audio ready in combination with a Logitech Rally Plus. So I decided to split this in half: This article is about the HP Hardware and the rest of the setup. The next one will be more about the Microsoft Teams Rooms Solution on top of it.
Here is a basic Overview of my Setup:
HP Elite Slice G2 – Audio Ready with Microsoft Teams Rooms
2x Samsung the Frame 49″
Logitech Rally Plus
Barco ClickShare 100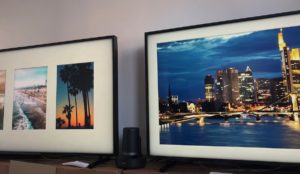 The HP Elite Slice for Meeting Rooms G2 Audio ready is a One-Stop Solution for a Microsoft Teams Rooms System (formerly known as Skype Room Systems).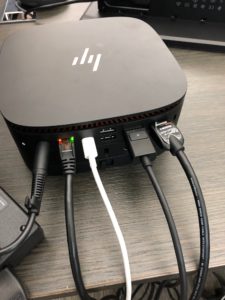 Some Hardware Specs for the HP Elite Slice G2:
Intel i5-7500T with an integrated HD Graphics 630, 2.7 GHz (Turbo Boost with up to 3.3 GHz) and 4 Cores
2 DIMM Memory Slots. Mine came with one (1) 8GB Module preinstalled
Min 128GB SSD. Mine has a 256GB SSD
1 Integrates 1GbE RJ45 Network Interface (Intel based I219LM)
Intel Dual Band Wireless-AC 8260 802.11ac (2×2) WiFi
An 12.3″ diagonal FHD LCD touch screen (1440 x 960) as Table Device
One HDMI Out
One DisplayPort
1 USB 3.1 Type-C (alternate mode DP)
2 USB 3.1 Gen 1
1 USB 3.1 Type-C (on the left Side)
One HDM Input (Video Ingest Module)
I also have a regular HP Slice, as you will see on some of the pictures, and everything seems to be identical!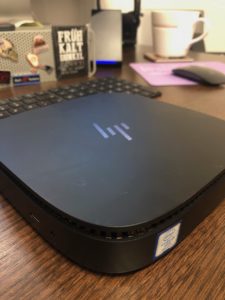 The HP Elite Slice for Meeting Rooms G2 Audio ready comes with a HP keyboard and mouse, but I never even unpacked them, I have a Microsoft All-in-One Wireless Media Keyboard that I use with the Room system (just in case I need it).
I decided to upgrade the RAM to the 32GB with 2 Crucial Ballistix Sport LT DDR4 16GB 2400 MHz (Unbuffered/Non-ECC) Modules. You don't need that, but the Crucial Ballistix RAM is a bit faster and with two 4K Monitors attached, more and faster RAM means a better performance overall. The integrated HD Graphics 630 graphic card use the regular RAM! Is it faster? Probably not, but Crucial had a good price at the time I ordered it.
The rest is untouched.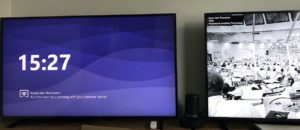 The cabling from HP is neat and I attached everything to my Logitech Rally Table Hub. To get the second HDMI connection I use an HP DisplayPort to HDMI adapter. The Slice is mounted with an Vesa Mount Slice near to the Logitech Rally Table Hub.
The two Samsung Monitors are attached to the Logitech Rally Display Hub. Between the Desk and the Displays is only one CAT6 Cable needed.
The complete setup was pretty simple and straight forward! In theory everything is plug and play and you don't really need to install any additional software or drivers. The Windows 10 based computer will load all necessary drivers from Windows Update, the rest is already backed-in.
I recommend to install the Logitech Software Suite to ensure that you can keep it up-to-date and that you can change some of the setting (in case you need to). But this is optional.
Attached to the HP Video Ingest Module (HDMI input) is a HDMI Device Switch. This might not be supported, but I want to have two real HDMI inputs. My Barco ClickShare is connected to one of the Inputs, the other one end on my desk (just in case).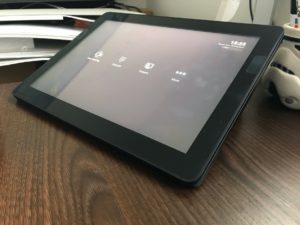 A friend asked me: Why the Samsung the Frame instead of a regular Monitor of LFD's (Large Format Displays)?
The Answer is simple: Art Mode! I like the fact, that they look like a real Picture Fram with neat art in it. And the Wow effect if you start a meeting and someone sees the switch from Art mode to a full blown 4K UHD Device is a bonus!
Another friend asked me: Why Two 49″ Monitors? Why not just one big device?
The Answer: I like to have a dedicated Content Device more! On the right side is the content, on the left the Video stuff.
Before you ask: Yes, bigger is better! But the 55″ Frames are more expensive and to be honest: There is simply not enough room for them on the wall!
Why the HP and why not any other Microsoft Teams Rooms solution?
I like the idea of the slices and the price was good! And I found a good offer (price).
The Setup is simple: When you start the HP Elite Slice for Meeting Rooms G2 Audio ready for the first time, it will start the Microsoft Teams Room Setup! You select your Audio/Video devices, provide a few informations and your Skype/Teams credentials and the system is ready.
A few things I figured out: The USB 3.1 Type-C (on the left Side) doesn't provide alternate mode DP capabilities! The LCD touch screen will not work if it is attached to this port!
I also tried some cables (USB-C and Thunderbolt 3), none worked without issues. Some powered the Display, but the displayed stayed dark, while the touch worked. I did that to test a few things without using the HP cabling solution.
Another thing that I found: I have a Thunderbolt 3 compatible extension cable (1 meter), when this is attached the display works fine… Until the timeout hits, the display seems to be detached and the central (meeting) screen was moved to one of the real monitors. Seems to be always the one attached to the DisplayPort! Sad, but I rearranged a few things under the table.
I did a few tests with a Logitech C930 as content camera. Worked fine, but I use Microsoft Whiteboard instead of an real Whiteboard or Flipchart. And I do not have a USB extender, so I wasn't able to test it very much.