Ende September tauchten ja die unterschiedlichsten Gerüchte auf, dass Apple durchaus Interesse daran haben könnte McLaren zu Übernehmen!
Die Gerüchteküche brodelte und alle rätselten ob es Sinn machen würde. Zum damaligen Zeitpunkt haben aber weder Apple, noch McLaren wirklich Stellung bezogen.
Nachdem immer mehr Gerüchte auftauchten, hat McLaren dann irgendwann mal ein kurzes "Stimmt nicht" herausgegeben:
We can confirm that McLaren is not in discussion with Apple in respect of any potential investment.

@jlgolson
In einem Interview mit Reuters wurden nun etwas mehr Details bekannt gegeben. Es war wohl so, dass die Anteilseigner keinen Verkauf wollen!
"There wasn't a bid from Apple," said Flewitt. "They visited. We talked. We talked about what they did. We talked about what we did. They toured. It never matured to a definitive proposition," he said.

Reuters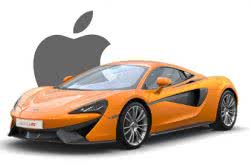 Ob es Sinn für Apple gemacht hätte McLaren zu kaufen, kann ich nicht beurteilen. Aber wenn Apple einen Automobilhersteller kaufen sollte, dann wäre McLaren sicher eine gute Wahl: Edel, sehr hochpreisig und trotzdem kein purer Protz.
Wobei ich persönlich immer noch der Meinung wäre, dass Telsa noch besser zu Apple passen würde!