As I mentioned before, I use use Graylog to centrally capture and store many logfiles. I collect and ship logfiles from many systems, like Linux servers and network elements, which is easy with Syslog. But I also have some Windows systems, and I want to have the event logs collected and shipped to my Graylog server.
I used the NXLog Community Edition for a long time to do that! And NXLog did an excellent job! But there was on drawback: NXLog required me to use a dedicated configuration for each system, what I did with included. I couldn't establish a universal "one size fits all" configuration approach. Then I found Winlogbeat from elastic!
And with Winlogbeat I was able to create a universal config that I can initially deploy to all Windows based servers! Yes, there are still some tweaks that you might want for each system (based on the role and use case of the system), but the universal approach worked very well for me.
Fortunately, my mate @Mokkujin had a lot of tips for me, so it was easy for me to create an initial setup!
At the same time, I started a collaboration with @psteder, for his use case Winlogbeat was the perfect match: Forward Windows event logs to a new Logstash instance.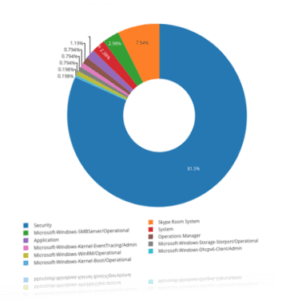 After a lot of engineering and testing, I created the following universal Winlogbeat configuration:
# Define the output (we use Logstash for Graylog)




output.logstash

:




  

hosts

:




    

- 

"XXX.XXX.XXX.XXX:XXXX"







# Cleanup




path

:

 

null







# The amount of time to wait for all events to be published when shutting down.




winlogbeat.shutdown_timeout

:

 

30s







# A list of entries (called dictionaries in YAML) that specify which event logs to monitor.




winlogbeat.event_logs

:




  

# Application Crashes: https://github.com/palantir/windows-event-forwarding/blob/master/wef-subscriptions/Application-Crashes.xml




  

- 

name

:

 

Application




    

event_id

:

 

1000

,

 

1002




    

ignore_older

:

 

24h




    

level

:

 

error




    

provider

:




      

- 

Application Error




      

- 

Application Hang




  

- 

name

:

 

Application




    

event_id

:

 

1001




    

ignore_older

:

 

24h




    

level

:

 

info




    

provider

:




      

- 

Windows Error Reporting







  

# emet: https://github.com/palantir/windows-event-forwarding/blob/master/wef-subscriptions/EMET.xml




  

- 

name

:

 

Application




    

event_id

:

 

1

,

 

2




    

level

:

 

warning, error




    

provider

:




      

- 

EMET







  

# Account Lockout: https://github.com/palantir/windows-event-forwarding/blob/master/wef-subscriptions/Account-Lockout.xml




  

- 

name

:

 

Security




    

event_id

:

 

4740




    

level

:

 

info




    

ignore_older

:

 

24h




    

provider

:




      

- 

Microsoft-Windows-Security-Auditing







  

# event log diagnostics: https://github.com/palantir/windows-event-forwarding/blob/master/wef-subscriptions/Event-Log-Diagnostics.xml




  

- 

name

:

 

System




    

ignore_older

:

 

24h




    

provider

:




      

- 

Microsoft-Windows-Eventlog




  

- 

name

:

 

Security




    

ignore_older

:

 

24h




    

event_id

:

 

1100

,

 

1104

,

 

1105

,

 

1108







  

# explicit credentials: https://github.com/palantir/windows-event-forwarding/blob/master/wef-subscriptions/Explicit-Credentials.xml




  

- 

name

:

 

Security




    

level

:

 

info




    

ignore_older

:

 

24h




    

provider

:




      

- 

Microsoft-Windows-Security-Auditing







  

# Account Management: https://github.com/palantir/windows-event-forwarding/blob/master/wef-subscriptions/Account-Management.xml




  

- 

name

:

 

Security




    

event_id

:

 

4627

,

 

4703

,

 

4704

,

 

4705

,

 

4720

,

 

4737-4739

,

 

4780-4782

,

 

4793

,

 

4794

,

 

4798

,

 

4799

,

 

5376

,

 

5377




    

ignore_older

:

 

24h




  

- 

name

:

 

Security




    

event_id

:

 

4722-4735




    

ignore_older

:

 

24h




  

- 

name

:

 

Security




    

event_id

:

 

4741-4753




    

ignore_older

:

 

24h




  

- 

name

:

 

Security




    

event_id

:

 

4754-4767




    

ignore_older

:

 

24h







  

# Active Directory: https://github.com/palantir/windows-event-forwarding/blob/master/wef-subscriptions/Active-Directory.xml




  

- 

name

:

 

Security




    

event_id

:

 

4662

,

 

14080

,

 

5136

,

 

5137

,

 

5178

,

 

5139

,

 

5141

,

 

4713

,

 

4706

,

 

4707

,

 

4716

,

 

4717

,

 

4718

,

 

4739

,

 

4864

,

 

4865

,

 

4866

,

 

4867




    

ignore_older

:

 

24h







  

# Authentication: https://github.com/palantir/windows-event-forwarding/blob/master/wef-subscriptions/Authentication.xml




  

- 

name

:

 

Security




    

#event_id: 4624-4626, 4634, 4647, 4649, 4672, 4675, 4774-4779, 4800-4803, 4964, 5378




    

event_id

:

 

4624-4626

,

 

4647

,

 

4649

,

 

4675

,

 

4774-4779

,

 

4800-4803

,

 

4964

,

 

5378




    

ignore_older

:

 

24h







  

# autoruns: https://github.com/palantir/windows-event-forwarding/blob/master/wef-subscriptions/Autoruns.xml




  

# make sure to set up the scheduled autoruns service




  

- 

name

:

 

Autoruns




    

ignore_older

:

 

24h







  

# bits: https://github.com/palantir/windows-event-forwarding/blob/master/wef-subscriptions/Bits-Client.xml




  

- 

name

:

 

Microsoft-Windows-Bits-Client/Operational




    

ignore_older

:

 

24h




    

processors

:




      

- 

drop_event.when.or

:




        

- 

equals.winlog.event_id

:

 

3




        

- 

equals.winlog.event_id

:

 

5




        

- 

equals.winlog.event_id

:

 

61




        

- 

equals.winlog.event_id

:

 

16403







  

# certificate authority: https://github.com/palantir/windows-event-forwarding/blob/master/wef-subscriptions/Certificate-Authority.xml




  

- 

name

:

 

Security




    

event_id

:

 

4886

,

 

4887

,

 

4888




    

ignore_older

:

 

24h







  

# code integrity: https://github.com/palantir/windows-event-forwarding/blob/master/wef-subscriptions/Code-Integrity.xml




  

- 

name

:

 

Microsoft-Windows-CodeIntegrity/Operational




    

event_id

:

 

3001

,

 

3002

,

 

3003

,

 

3004

,

 

3010

,

 

3023




    

ignore_older

:

 

24h




    

level

:

 

error, warning




    

provider

:




      

- 

Microsoft-Windows-CodeIntegrity




  

- 

name

:

 

Security




    

event_id

:

 

5038

,

 

6281

,

 

6410




    

ignore_older

:

 

24h




    

level

:

 

info




    

provider

:




      

- 

Microsoft-Windows-Security-Auditing







  

# drivers: https://github.com/palantir/windows-event-forwarding/blob/master/wef-subscriptions/Drivers.xml




  

- 

name

:

 

System




    

event_id

:

 

219




    

ignore_older

:

 

24h




    

level

:

 

warning




    

provider

:




      

- 

Microsoft-Windows-Kernel-PnP




  

- 

name

:

 

Microsoft-Windows-DriverFrameworks-UserMode/Operational




    

event_id

:

 

2004




    

ignore_older

:

 

24h







  

- 

name

:

 

System




    

level

:

 

'critical, error'




    

ignore_older

:

 

24h




    

processors

:




      

- 

drop_event.when.or

:




        

- 

equals.winlog.event_id

:

 

7000




        

- 

equals.winlog.event_id

:

 

7001




        

- 

equals.winlog.event_id

:

 

10016




        

- 

equals.winlog.event_id

:

 

24629




        

- 

equals.winlog.event_id

:

 

10010




        

- 

equals.winlog.event_id

:

 

11060




        

- 

equals.winlog.event_id

:

 

41




        

- 

equals.winlog.event_id

:

 

124




        

- 

equals.winlog.event_id

:

 

34







  

# As requested by our external CISO service




  

- 

name

:

 

ForwardedEvents




    

tags

:

 

[

forwarded]




    

processors

:




      

- 

script

:




        

when.equals.winlog.channel

:

 

Security




        

lang

:

 

javascript




        

id

:

 

security




        

file

:

 

${path.home}/module/security/config/winlogbeat-security.js




      

- 

script

:




        

when.equals.winlog.channel

:

 

Microsoft-Windows-Sysmon/Operational




        

lang

:

 

javascript




        

id

:

 

sysmon




        

file

:

 

${path.home}/module/sysmon/config/winlogbeat-sysmon.js




      

- 

script

:




        

when.equals.winlog.channel

:

 

Windows PowerShell




        

lang

:

 

javascript




        

id

:

 

powershell




        

file

:

 

${path.home}/module/powershell/config/winlogbeat-powershell.js




      

- 

script

:




        

when.equals.winlog.channel

:

 

Microsoft-Windows-PowerShell/Operational




        

lang

:

 

javascript




        

id

:

 

powershell




        

file

:

 

${path.home}/module/powershell/config/winlogbeat-powershell.js







  

# exploit guard: https://github.com/palantir/windows-event-forwarding/blob/master/wef-subscriptions/Exploit-Guard.xml




  

- 

name

:

 

Microsoft-Windows-Windows Defender/Operational




    

event_id

:

 

1121

,

 

1122

,

 

5007




    

ignore_older

:

 

24h




  

- 

name

:

 

Microsoft-Windows-Windows Defender/WHC




    

event_id

:

 

1121

,

 

1122

,

 

5007




    

ignore_older

:

 

24h




  

- 

name

:

 

Microsoft-Windows-Security-Mitigations/KernelMode




    

event_id

:

 

1-9

,

 

11-12

,

 

5

,

 

260




    

ignore_older

:

 

24h




    

provider

:




      

- 

Microsoft-Windows-Security-Mitigations




      

- 

Microsoft-Windows-WER-Diag




      

- 

Microsoft-Windows-Win32kv




      

- 

Win32k







  

- 

name

:

 

Microsoft-Windows-Security-Mitigations/KernelMode




    

event_id

:

 

12-24




    

ignore_older

:

 

24h




    

provider

:




      

- 

Microsoft-Windows-Security-Mitigations




      

- 

Microsoft-Windows-WER-Diag




      

- 

Microsoft-Windows-Win32kv




      

- 

Win32k







  

- 

name

:

 

Microsoft-Windows-Win32k/Concurrency




    

event_id

:

 

1-12

,

 

5

,

 

260




    

ignore_older

:

 

24h




    

provider

:




      

- 

Microsoft-Windows-Security-Mitigations




      

- 

Microsoft-Windows-WER-Diag




      

- 

Microsoft-Windows-Win32kv




      

- 

Win32k







  

- 

name

:

 

Microsoft-Windows-Win32k/Concurrency




    

event_id

:

 

12-24




    

ignore_older

:

 

24h




    

provider

:




      

- 

Microsoft-Windows-Security-Mitigations




      

- 

Microsoft-Windows-WER-Diag




      

- 

Microsoft-Windows-Win32kv




      

- 

Win32k







  

- 

name

:

 

Microsoft-Windows-Win32k/Contention




    

event_id

:

 

1-12

,

 

5

,

 

260




    

ignore_older

:

 

24h




    

provider

:




      

- 

Microsoft-Windows-Security-Mitigations




      

- 

Microsoft-Windows-WER-Diag




      

- 

Microsoft-Windows-Win32kv




      

- 

Win32k







  

- 

name

:

 

Microsoft-Windows-Win32k/Contention




    

event_id

:

 

12-24




    

ignore_older

:

 

24h




    

provider

:




      

- 

Microsoft-Windows-Security-Mitigations




      

- 

Microsoft-Windows-WER-Diag




      

- 

Microsoft-Windows-Win32kv




      

- 

Win32k







  

- 

name

:

 

Microsoft-Windows-Win32k/Messages




    

event_id

:

 

1-12

,

 

5

,

 

260




    

ignore_older

:

 

24h




    

provider

:




      

- 

Microsoft-Windows-Security-Mitigations




      

- 

Microsoft-Windows-WER-Diag




      

- 

Microsoft-Windows-Win32kv




      

- 

Win32k







  

- 

name

:

 

Microsoft-Windows-Win32k/Messages




    

event_id

:

 

12-24




    

ignore_older

:

 

24h




    

provider

:




      

- 

Microsoft-Windows-Security-Mitigations




      

- 

Microsoft-Windows-WER-Diag




      

- 

Microsoft-Windows-Win32kv




      

- 

Win32k







  

- 

name

:

 

Microsoft-Windows-Win32k/Operational




    

event_id

:

 

1-12

,

 

5

,

 

260




    

ignore_older

:

 

24h




    

provider

:




      

- 

Microsoft-Windows-Security-Mitigations




      

- 

Microsoft-Windows-WER-Diag




      

- 

Microsoft-Windows-Win32kv




      

- 

Win32k







  

- 

name

:

 

Microsoft-Windows-Win32k/Operational




    

event_id

:

 

12-24




    

ignore_older

:

 

24h




    

provider

:




      

- 

Microsoft-Windows-Security-Mitigations




      

- 

Microsoft-Windows-WER-Diag




      

- 

Microsoft-Windows-Win32kv




      

- 

Win32k







  

- 

name

:

 

Microsoft-Windows-Win32k/Power




    

event_id

:

 

1-12

,

 

5

,

 

260




    

ignore_older

:

 

24h




    

provider

:




      

- 

Microsoft-Windows-Security-Mitigations




      

- 

Microsoft-Windows-WER-Diag




      

- 

Microsoft-Windows-Win32kv




      

- 

Win32k







  

- 

name

:

 

Microsoft-Windows-Win32k/Power




    

event_id

:

 

12-24




    

ignore_older

:

 

24h




    

provider

:




      

- 

Microsoft-Windows-Security-Mitigations




      

- 

Microsoft-Windows-WER-Diag




      

- 

Microsoft-Windows-Win32kv




      

- 

Win32k







  

- 

name

:

 

Microsoft-Windows-Win32k/Render




    

event_id

:

 

1-12

,

 

5

,

 

260




    

ignore_older

:

 

24h




    

provider

:




      

- 

Microsoft-Windows-Security-Mitigations




      

- 

Microsoft-Windows-WER-Diag




      

- 

Microsoft-Windows-Win32kv




      

- 

Win32k







  

- 

name

:

 

Microsoft-Windows-Win32k/Render




    

event_id

:

 

12-24




    

ignore_older

:

 

24h




    

provider

:




      

- 

Microsoft-Windows-Security-Mitigations




      

- 

Microsoft-Windows-WER-Diag




      

- 

Microsoft-Windows-Win32kv




      

- 

Win32k







  

- 

name

:

 

Microsoft-Windows-Win32k/Tracing




    

event_id

:

 

1-12

,

 

5

,

 

260




    

ignore_older

:

 

24h




    

provider

:




      

- 

Microsoft-Windows-Security-Mitigations




      

- 

Microsoft-Windows-WER-Diag




      

- 

Microsoft-Windows-Win32kv




      

- 

Win32k







  

- 

name

:

 

Microsoft-Windows-Win32k/Tracing




    

event_id

:

 

12-24




    

ignore_older

:

 

24h




    

provider

:




      

- 

Microsoft-Windows-Security-Mitigations




      

- 

Microsoft-Windows-WER-Diag




      

- 

Microsoft-Windows-Win32kv




      

- 

Win32k







  

- 

name

:

 

Microsoft-Windows-Win32k/UIPI




    

event_id

:

 

1-12

,

 

5

,

 

260




    

ignore_older

:

 

24h




    

provider

:




      

- 

Microsoft-Windows-Security-Mitigations




      

- 

Microsoft-Windows-WER-Diag




      

- 

Microsoft-Windows-Win32kv




      

- 

Win32k







  

- 

name

:

 

Microsoft-Windows-Win32k/UIPI




    

event_id

:

 

12-24




    

ignore_older

:

 

24h




    

provider

:




      

- 

Microsoft-Windows-Security-Mitigations




      

- 

Microsoft-Windows-WER-Diag




      

- 

Microsoft-Windows-Win32kv




      

- 

Win32k







  

- 

name

:

 

System




    

event_id

:

 

1-12

,

 

5

,

 

260




    

ignore_older

:

 

24h




    

provider

:




      

- 

Microsoft-Windows-Security-Mitigations




      

- 

Microsoft-Windows-WER-Diag




      

- 

Microsoft-Windows-Win32kv




      

- 

Win32k







  

- 

name

:

 

System




    

event_id

:

 

12-24




    

ignore_older

:

 

24h




    

provider

:




      

- 

Microsoft-Windows-Security-Mitigations




      

- 

Microsoft-Windows-WER-Diag




      

- 

Microsoft-Windows-Win32kv




      

- 

Win32k







  

- 

name

:

 

Microsoft-Windows-Security-Mitigations/UserMode




    

event_id

:

 

1-12

,

 

5

,

 

260




    

ignore_older

:

 

24h




    

provider

:




      

- 

Microsoft-Windows-Security-Mitigations




      

- 

Microsoft-Windows-WER-Diag




      

- 

Microsoft-Windows-Win32kv




      

- 

Win32k







  

- 

name

:

 

Microsoft-Windows-Security-Mitigations/UserMode




    

event_id

:

 

12-24




    

ignore_older

:

 

24h




    

provider

:




      

- 

Microsoft-Windows-Security-Mitigations




      

- 

Microsoft-Windows-WER-Diag




      

- 

Microsoft-Windows-Win32kv




      

- 

Win32k







  

- 

name

:

 

Microsoft-Windows-Windows Defender/Operational




    

event_id

:

 

1125

,

 

1126

,

 

5007




    

ignore_older

:

 

24h







  

- 

name

:

 

Microsoft-Windows-Windows Defender/WHC




    

event_id

:

 

1125

,

 

1126

,

 

5007




    

ignore_older

:

 

24h







  

# windows defender: https://github.com/palantir/windows-event-forwarding/blob/master/wef-subscriptions/Windows-Defender.xml




  

- 

name

:

 

Microsoft-Windows-Windows Defender/Operational




    

event_id

:

 

1006-1009




    

ignore_older

:

 

24h







  

- 

name

:

 

Microsoft-Windows-Windows Defender/Operational




    

event_id

:

 

1116-1119




    

ignore_older

:

 

24h







  

- 

name

:

 

Microsoft-Windows-AAD/Operational




    

level

:

 

'critical, error, warning'




    

ignore_older

:

 

24h




    

include_xml

:

 

true




    

processors

:




      

- 

drop_event.when.or

:




        

- 

equals.winlog.event_id

:

 

1104




        

- 

equals.winlog.event_id

:

 

1025




        

- 

equals.winlog.event_id

:

 

1097




        

- 

equals.winlog.event_id

:

 

1098




        

- 

equals.winlog.event_id

:

 

1162




        

- 

equals.winlog.event_id

:

 

7361







  

- 

name

:

 

Microsoft-Windows-BitLocker/BitLocker Operational




    

level

:

 

'critical, error, warning'




    

ignore_older

:

 

24h







  

- 

name

:

 

Microsoft-Windows-BitLocker/BitLocker Management




    

level

:

 

'critical, error'




    

ignore_older

:

 

24h







  

- 

name

:

 

Microsoft-Windows-BitLocker-DrivePreparationTool/Operational




    

level

:

 

'critical, error'




    

ignore_older

:

 

24h







  

- 

name

:

 

Microsoft-Windows-BitLocker-DrivePreparationTool/Admin




    

level

:

 

'critical, error'




    

ignore_older

:

 

24h







  

- 

name

:

 

Microsoft-Windows-DeviceGuard/Operational




    

level

:

 

'critical, error'




    

ignore_older

:

 

24h







  

- 

name

:

 

Microsoft-Windows-DSC/Operational




    

level

:

 

'critical, error'




    

ignore_older

:

 

24h







  

- 

name

:

 

Microsoft-Windows-PowerShell/Operational




    

event_id

:

 

4103

,

 

4105

,

 

4106




    

level

:

 

'critical, error, warning'




    

ignore_older

:

 

24h




    

processors

:




      

- 

drop_event.when.or

:




        

- 

equals.winlog.event_id

:

 

4104




        

- 

equals.winlog.event_id

:

 

4100




        

- 

equals.winlog.event_id

:

 

32784







  

- 

name

:

 

Microsoft-Windows-PowerShell/Admin




    

level

:

 

'critical, error'




    

ignore_older

:

 

24h







  

- 

name

:

 

Microsoft-Windows-PowerShell-DesiredStateConfiguration-FileDownloadManager/Operational




    

level

:

 

'critical, error'




    

ignore_older

:

 

24h







  

- 

name

:

 

Microsoft-Windows-Shell-Core/Operational




    

level

:

 

'critical, error'




    

ignore_older

:

 

24h







  

- 

name

:

 

Microsoft-Windows-Shell-Core/LogonTasksChannel




    

level

:

 

'critical, error'




    

ignore_older

:

 

24h







  

- 

name

:

 

Microsoft-Windows-Shell-Core/AppDefaults




    

level

:

 

'critical, error'




    

ignore_older

:

 

24h







  

- 

name

:

 

Microsoft-Windows-Shell-Core/ActionCenter




    

level

:

 

'critical, error'




    

ignore_older

:

 

24h







  

- 

name

:

 

PowerShellCore/Operational




    

level

:

 

'critical, error, warning'




    

ignore_older

:

 

24h







  

- 

name

:

 

OpenSSH/Operational




    

level

:

 

'critical, error, warning'




    

ignore_older

:

 

24h







  

- 

name

:

 

OpenSSH/Admin




    

level

:

 

'critical, error, warning'




    

ignore_older

:

 

24h







  

- 

name

:

 

HardwareEvents




    

level

:

 

'critical, error'




    

ignore_older

:

 

24h







  

- 

name

:

 

Windows PowerShell




    

event_id

:

 

400

,

 

403

,

 

600

,

 

800




    

level

:

 

'critical, error, warning'




    

ignore_older

:

 

24h







  

- 

name

:

 

Microsoft-Windows-WMI-Activity/Operational




    

#event_id: 5857,5858,5859,5860,5861




    

level

:

 

'critical, error'




    

ignore_older

:

 

24h




    

processors

:




      

- 

drop_event.when.or

:




        

- 

equals.winlog.event_id

:

 

5858







  

- 

name

:

 

Microsoft-Windows-TPM-WMI




    

level

:

 

'critical, error'




    

ignore_older

:

 

24h







  

- 

name

:

 

Microsoft-Windows-Security-Mitigations/KernelMode




    

level

:

 

'critical, error'




    

ignore_older

:

 

24h




    

processors

:




      

- 

drop_event.when.or

:




          

- 

equals.winlog.event_id

:

 

10







  

- 

name

:

 

Microsoft-Windows-Security-Mitigations/UserMode




    

level

:

 

'critical, error'




    

ignore_older

:

 

24h







  

- 

name

:

 

Microsoft-Windows-Kernel-WHEA/Operational




    

level

:

 

'critical, error'




    

ignore_older

:

 

24h







  

- 

name

:

 

Microsoft-Windows-Kernel-WHEA/Errors




    

level

:

 

'critical, error'




    

ignore_older

:

 

24h







  

- 

name

:

 

Microsoft-Windows-Kernel-WDI/Operational




    

level

:

 

'critical, error'




    

ignore_older

:

 

24h







  

- 

name

:

 

Microsoft-Windows-Kernel-StoreMgr/Operational




    

level

:

 

'critical, error'




    

ignore_older

:

 

24h







  

- 

name

:

 

Microsoft-Windows-Kernel-ShimEngine/Operational




    

level

:

 

'critical, error'




    

ignore_older

:

 

24h







  

- 

name

:

 

Microsoft-Windows-Kernel-Power/Thermal-Operational




    

level

:

 

'critical, error'




    

ignore_older

:

 

24h







  

- 

name

:

 

Microsoft-Windows-Kernel-PnP/Driver Watchdog




    

level

:

 

'critical, error'




    

ignore_older

:

 

24h







  

- 

name

:

 

Microsoft-Windows-Kernel-PnP/Configuration




    

level

:

 

'critical, error'




    

ignore_older

:

 

24h







  

- 

name

:

 

Microsoft-Windows-Kernel-LiveDump/Operational




    

level

:

 

'critical, error'




    

ignore_older

:

 

24h







  

- 

name

:

 

Microsoft-Windows-Kernel-IO/Operational




    

level

:

 

'critical, error'




    

ignore_older

:

 

24h







  

- 

name

:

 

Microsoft-Windows-Kernel-EventTracing/Admin




    

level

:

 

'critical, error'




    

ignore_older

:

 

24h




    

processors

:




      

- 

drop_event.when.or

:




        

- 

equals.winlog.event_id

:

 

1569




        

- 

equals.winlog.event_id

:

 

1570




        

- 

equals.winlog.event_id

:

 

2




        

- 

equals.winlog.event_id

:

 

28




        

- 

contains.message

:

 

'Session "Diagtrack-Listener" stopped due to the following error:'







  

- 

name

:

 

Microsoft-Windows-Kernel-Boot/Operational




    

level

:

 

'critical, error'




    

ignore_older

:

 

24h




    

processors

:




      

- 

drop_event.when.or

:




        

- 

equals.winlog.event_id

:

 

124




        

- 

equals.winlog.event_id

:

 

158







  

- 

name

:

 

Microsoft-Windows-WinRM/Operational




    

level

:

 

'critical, error, warning'




    

ignore_older

:

 

24h




    

processors

:




      

- 

drop_event.when.or

:




        

- 

equals.winlog.event_id

:

 

142




        

- 

equals.winlog.event_id

:

 

161







  

- 

name

:

 

Microsoft-Windows-RemoteDesktopServices-RdpCoreTS/Operational




    

level

:

 

'critical, error'




    

ignore_older

:

 

24h




    

processors

:




      

- 

drop_event.when.or

:




        

- 

equals.winlog.event_id

:

 

227







  

- 

name

:

 

Microsoft-Windows-RemoteDesktopServices-RdpCoreTS/Admin




    

level

:

 

'critical, error'




    

ignore_older

:

 

24h







  

- 

name

:

 

Microsoft-Windows-Windows Firewall With Advanced Security/Firewall




    

level

:

 

'critical, error'




    

ignore_older

:

 

24h




    

include_xml

:

 

true







  

- 

name

:

 

Microsoft-Windows-Windows Firewall With Advanced Security/ConnectionSecurity




    

level

:

 

'critical, error'




    

ignore_older

:

 

24h




    

include_xml

:

 

true







  

- 

name

:

 

Windows Networking Vpn Plugin Platform/Operational




    

level

:

 

'critical, error'




    

ignore_older

:

 

24h







  

- 

name

:

 

Microsoft-Windows-VPN/Operational




    

level

:

 

'critical, error'




    

ignore_older

:

 

24h







  

- 

name

:

 

Microsoft-Windows-VPN-Client/Operational




    

level

:

 

'critical, error'




    

ignore_older

:

 

24h







  

- 

name

:

 

Microsoft-Windows-RasAgileVpn/Operational




    

level

:

 

'critical, error'




    

ignore_older

:

 

24h







  

- 

name

:

 

Microsoft-Windows-TCPIP/Operational




    

level

:

 

'critical, error'




    

ignore_older

:

 

24h







  

- 

name

:

 

Microsoft-Windows-LiveId/Operational




    

level

:

 

'critical, error'




    

ignore_older

:

 

24h




    

processors

:




      

- 

drop_event.when.or

:




        

- 

equals.winlog.event_id

:

 

2028




        

- 

equals.winlog.event_id

:

 

6113




        

- 

equals.winlog.event_id

:

 

6114







  

- 

name

:

 

Microsoft-Windows-ReFS/Operational




    

level

:

 

'critical, error'




    

ignore_older

:

 

24h







  

- 

name

:

 

Microsoft-Windows-GroupPolicy/Operational




    

level

:

 

'critical, error, warning'




    

ignore_older

:

 

24h







  

- 

name

:

 

Microsoft-Windows-HelloForBusiness/Operational




    

level

:

 

'critical, error, warning'




    

ignore_older

:

 

24h




    

processors

:




      

- 

drop_event.when.or

:




        

# Failed prerequisites check, who cares?




        

- 

equals.winlog.event_id

:

 

7054




        

# Failed with hardware requirements, who cares?




        

- 

equals.winlog.event_id

:

 

7202




        

# User running in a remote desktop session




        

- 

equals.winlog.event_id

:

 

7210




        

# Requirement check failed




        

- 

equals.winlog.event_id

:

 

7201







  

# task scheduler: https://github.com/palantir/windows-event-forwarding/blob/master/wef-subscriptions/Task-Scheduler.xml




  

- 

name

:

 

Microsoft-Windows-TaskScheduler/Operational




    

event_id

:

 

106

,

 

129

,

 

141

,

 

142

,

 

200

,

 

201




    

ignore_older

:

 

24h




    

provider

:




      

- 

Microsoft-Windows-TaskScheduler







  

- 

name

:

 

Security




    

event_id

:

 

4698-4702




    

ignore_older

:

 

24h







  

- 

name

:

 

Microsoft-Windows-TaskScheduler/Maintenance




    

level

:

 

'critical, error'




    

ignore_older

:

 

24h







  

- 

name

:

 

Microsoft-Windows-Storsvc/Diagnostic




    

level

:

 

'critical, error'




    

ignore_older

:

 

24h







  

- 

name

:

 

Microsoft-Windows-Store/Operational




    

level

:

 

'critical'




    

ignore_older

:

 

24h




    

processors

:




      

- 

drop_event.when.or

:




        

- 

equals.winlog.event_id

:

 

8002







  

- 

name

:

 

Microsoft-Windows-StorageSpaces-SpaceManager/Operational




    

level

:

 

'critical, error'




    

ignore_older

:

 

24h







  

- 

name

:

 

Microsoft-Windows-StorageSpaces-SpaceManager/Diagnostic




    

level

:

 

'critical, error'




    

ignore_older

:

 

24h







  

- 

name

:

 

Microsoft-Windows-StorageSpaces-ManagementAgent/WHC




    

level

:

 

'critical, error'




    

ignore_older

:

 

24h







  

- 

name

:

 

Microsoft-Windows-StorageSpaces-Driver/Operational




    

level

:

 

'critical, error'




    

ignore_older

:

 

24h







  

- 

name

:

 

Microsoft-Windows-StorageSpaces-Driver/Diagnostic




    

level

:

 

'critical, error'




    

ignore_older

:

 

24h







  

- 

name

:

 

Microsoft-Windows-StorageManagement/Operational




    

level

:

 

'critical, error'




    

ignore_older

:

 

24h







  

- 

name

:

 

Microsoft-Windows-Storage-Tiering/Admin




    

level

:

 

'critical, error'




    

ignore_older

:

 

24h







  

- 

name

:

 

Microsoft-Windows-Storage-Storport/Operational




    

level

:

 

'critical'




    

ignore_older

:

 

24h




    

processors

:




      

- 

drop_event.when.or

:




        

- 

equals.winlog.event_id

:

 

549




        

- 

equals.winlog.event_id

:

 

534




        

- 

equals.winlog.event_id

:

 

523




        

- 

equals.winlog.event_id

:

 

500







  

- 

name

:

 

Microsoft-Windows-Storage-Storport/Health




    

level

:

 

'critical, error'




    

ignore_older

:

 

24h







  

- 

name

:

 

Microsoft-Windows-Storage-Storport/Admin




    

level

:

 

'critical, error'




    

ignore_older

:

 

24h







  

- 

name

:

 

Microsoft-Windows-Storage-Disk/Operational




    

level

:

 

'critical, error'




    

ignore_older

:

 

24h







  

- 

name

:

 

Microsoft-Windows-Storage-Disk/Admin




    

level

:

 

'critical, error'




    

ignore_older

:

 

24h







  

- 

name

:

 

Microsoft-Windows-SMBServer/Security




    

level

:

 

'critical, error'




    

ignore_older

:

 

24h







  

- 

name

:

 

Microsoft-Windows-SMBServer/Operational




    

level

:

 

'critical, error'




    

ignore_older

:

 

24h




    

processors

:




      

- 

drop_event.when.or

:




        

- 

equals.winlog.event_id

:

 

1024







  

- 

name

:

 

Microsoft-Windows-SMBServer/Connectivity




    

level

:

 

'critical, error'




    

ignore_older

:

 

24h







  

- 

name

:

 

Microsoft-Windows-SMBServer/Audit




    

level

:

 

'critical, error'




    

ignore_older

:

 

24h







  

- 

name

:

 

Microsoft-Windows-SmbClient/Security




    

level

:

 

'critical, error'




    

ignore_older

:

 

24h




    

processors

:




      

- 

drop_event.when.or

:




        

- 

equals.winlog.event_id

:

 

8464




        

- 

equals.winlog.event_id

:

 

31001







  

- 

name

:

 

Microsoft-Windows-SMBClient/Operational




    

level

:

 

'critical, error'




    

ignore_older

:

 

24h







  

- 

name

:

 

Microsoft-Windows-SmbClient/Connectivity




    

level

:

 

'critical, error'




    

ignore_older

:

 

24h




    

processors

:




      

- 

drop_event.when.or

:




        

- 

equals.winlog.event_id

:

 

30800




        

- 

equals.winlog.event_id

:

 

30803







  

- 

name

:

 

Microsoft-Windows-SmbClient/Audit




    

level

:

 

'critical, error'




    

ignore_older

:

 

24h







  

- 

name

:

 

Win Device Agent




    

level

:

 

'critical, error'




    

ignore_older

:

 

24h







  

- 

name

:

 

ScriptLaunch




    

level

:

 

'critical, error'




    

ignore_older

:

 

24h







  

- 

name

:

 

Operations Manager




    

level

:

 

'critical, error'




    

ignore_older

:

 

24h




    

processors

:




      

- 

drop_event.when.or

:




        

- 

equals.winlog.event_id

:

 

4502




        

- 

equals.winlog.event_id

:

 

26002







  

- 

name

:

 

OneApp_IGCC




    

level

:

 

'critical, error'




    

ignore_older

:

 

24h







  

- 

name

:

 

Key Management Service




    

level

:

 

'critical, error'




    

ignore_older

:

 

24h







  

- 

name

:

 

Internet Explorer




    

level

:

 

'critical, error'




    

ignore_older

:

 

24h







  

# dns: https://github.com/palantir/windows-event-forwarding/blob/master/wef-subscriptions/DNS.xml




  

- 

name

:

 

Microsoft-Windows-DNS-Client/Operational




    

event_id

:

 

3008




    

ignore_older

:

 

24h







  

- 

name

:

 

DNS Server




    

event_id

:

 

150

,

 

770




    

ignore_older

:

 

24h







  

- 

name

:

 

Microsoft-Windows-DNSServer/Audit




    

event_id

:

 

541




    

ignore_older

:

 

24h







  

- 

name

:

 

Microsoft-Windows-Dhcpv6-Client/Operational




    

level

:

 

'critical, error'




    

ignore_older

:

 

24h







  

- 

name

:

 

Microsoft-Windows-Dhcpv6-Client/Admin




    

level

:

 

'critical, error'




    

ignore_older

:

 

24h







  

- 

name

:

 

Microsoft-Windows-Dhcp-Client/Operational




    

level

:

 

'critical, error'




    

ignore_older

:

 

24h







  

- 

name

:

 

Microsoft-Windows-Dhcp-Client/Admin




    

level

:

 

'critical, error'




    

ignore_older

:

 

24h







  

- 

name

:

 

Microsoft-Windows-AppLocker/Packaged app-Execution




    

level

:

 

'critical, error'




    

ignore_older

:

 

24h







  

- 

name

:

 

Microsoft-Windows-AppLocker/Packaged app-Deployment




    

level

:

 

'critical, error'




    

ignore_older

:

 

24h







  

- 

name

:

 

Microsoft-Windows-AppLocker/MSI and Script




    

level

:

 

'critical, error'




    

ignore_older

:

 

24h







  

- 

name

:

 

Microsoft-Windows-AppLocker/EXE and DLL




    

level

:

 

'critical, error'




    

ignore_older

:

 

24h







  

- 

name

:

 

Microsoft-Windows-CodeIntegrity/Operational




    

level

:

 

'critical'




    

ignore_older

:

 

24h




    

processors

:




      

- 

drop_event.when.or

:




        

- 

equals.winlog.event_id

:

 

3033







  

# Server only




  

- 

name

:

 

Microsoft-Windows-Dhcp-Server/Operational




    

level

:

 

'critical, error'




    

ignore_older

:

 

24h







  

# Microsoft Skype for Business Rooms System and Microsoft Teams Rooms System only




  

- 

name

:

 

Skype Room System




    

level

:

 

'critical, error, warning'




    

ignore_older

:

 

24h







  

# Hp Tooling




  

- 

name

:

 

HPNotifications Application




    

level

:

 

'critical, error'




    

ignore_older

:

 

24h







  

- 

name

:

 

HP Sure Start




    

level

:

 

'critical, error'




    

ignore_older

:

 

24h







  

- 

name

:

 

HP Diagnostics




    

level

:

 

'critical, error'




    

ignore_older

:

 

24h







  

- 

name

:

 

HP Analytics




    

level

:

 

'critical, error'




    

ignore_older

:

 

24h







  

# Hyper-V only




  

- 

name

:

 

Microsoft-Windows-Hyper-V-Hypervisor-Operational




    

level

:

 

'critical, error'




    

ignore_older

:

 

24h




    

processors

:




      

- 

drop_event.when.or

:




        

- 

equals.winlog.event_id

:

 

41







  

- 

name

:

 

Microsoft-Windows-Hyper-V-Hypervisor-Admin




    

level

:

 

'critical, error'




    

ignore_older

:

 

24h




    

processors

:




      

- 

drop_event.when.or

:




        

- 

equals.winlog.event_id

:

 

41







  

- 

name

:

 

Microsoft-Windows-Hyper-V-Worker-Operational




    

level

:

 

'critical, error'




    

ignore_older

:

 

24h







  

- 

name

:

 

Microsoft-Windows-Hyper-V-Worker-Admin




    

level

:

 

'critical, error'




    

ignore_older

:

 

24h







  

- 

name

:

 

Microsoft-Windows-Hyper-V-VmSwitch-Operational




    

level

:

 

'critical, error'




    

ignore_older

:

 

24h







  

- 

name

:

 

Microsoft-Windows-Hyper-V-VID-Admin




    

level

:

 

'critical, error'




    

ignore_older

:

 

24h







  

- 

name

:

 

Microsoft-Windows-Hyper-V-StorageVSP-Admin




    

level

:

 

'critical, error'




    

ignore_older

:

 

24h







  

- 

name

:

 

Microsoft-Windows-Hyper-V-Guest-Drivers/Operational




    

level

:

 

'critical, error'




    

ignore_older

:

 

24h







  

- 

name

:

 

Microsoft-Windows-Hyper-V-Guest-Drivers/Admin




    

level

:

 

'critical, error'




    

ignore_older

:

 

24h







  

- 

name

:

 

Microsoft-Windows-Hyper-V-Compute-Operational




    

level

:

 

'critical, error'




    

ignore_older

:

 

24h







  

- 

name

:

 

Microsoft-Windows-Hyper-V-Compute-Admin




    

level

:

 

'critical, error'




    

ignore_older

:

 

24h







  

# Monitor USB Devices, this eventlog is not enabled by default




  

- 

name

:

 

Microsoft-Windows-DriverFrameworks-UserMode/Operational




    

level

:

 

'critical, error'




    

event_id

:

 

2003

,

2102




    

ignore_older

:

 

24h







  

# Sysmon related, need some care soon. It IS VERY NOISY, we need a solic filter




  

- 

name

:

 

Microsoft-Windows-Sysmon/Operational




    

level

:

 

'critical, error, warning, information'




    

# Minimum, for now!




    

event_id

:

 

255

,

 

16

,

 

14

,

 

6




    

ignore_older

:

 

24h







  

# HostGuardianService related




  

- 

name

:

 

Microsoft-Windows-HostGuardianService-Client/Operational




    

level

:

 

'critical, error, warning'




    

ignore_older

:

 

24h







  

- 

name

:

 

Microsoft-Windows-HostGuardianService-Client/Admin




    

level

:

 

'critical, error'




    

ignore_older

:

 

24h







  

- 

name

:

 

Microsoft-Windows-HostGuardianService-CA/Operational




    

level

:

 

'critical, error'




    

ignore_older

:

 

24h







  

- 

name

:

 

Microsoft-Windows-HostGuardianService-CA/Admin




    

level

:

 

'critical, error'




    

ignore_older

:

 

24h







  

# NTFS




  

- 

name

:

 

Microsoft-Windows-Ntfs/WHC




    

level

:

 

'critical, error'




    

ignore_older

:

 

24h







  

- 

name

:

 

Microsoft-Windows-Ntfs/Operational




    

level

:

 

'critical, error'




    

ignore_older

:

 

24h







  

# NTLM




  

- 

name

:

 

Microsoft-Windows-NTLM/Operational




    

level

:

 

'critical, error'




    

ignore_older

:

 

24h







  

# ReFS




  

- 

name

:

 

Microsoft-Windows-ReFS/Operational




    

level

:

 

'critical, error'




    

ignore_older

:

 

24h







  

# RemoteFX related




  

- 

name

:

 

RemoteDesktopServices-RemoteFX-SessionLicensing-Operational




    

level

:

 

'critical, error'




    

ignore_older

:

 

24h







  

- 

name

:

 

RemoteDesktopServices-RemoteFX-SessionLicensing-Admin




    

level

:

 

'critical, error'




    

ignore_older

:

 

24h







  

- 

name

:

 

Microsoft-Windows-RemoteDesktopServices-RemoteFX-Synth3dvsp/Admin




    

level

:

 

'critical, error'




    

ignore_older

:

 

24h







  

- 

name

:

 

Microsoft-Windows-RemoteDesktopServices-RemoteFX-Synth3dvsc/Admin




    

level

:

 

'critical, error'




    

ignore_older

:

 

24h







  

- 

name

:

 

Microsoft-Windows-RemoteDesktopServices-RemoteFX-Manager/Operational




    

level

:

 

'critical, error'




    

ignore_older

:

 

24h







  

- 

name

:

 

Microsoft-Windows-RemoteDesktopServices-RemoteFX-Manager/Admin




    

level

:

 

'critical, error'




    

ignore_older

:

 

24h







  

# General Remote Desktop and App related




  

- 

name

:

 

Microsoft-Windows-Remotefs-Rdbss/Operational




    

level

:

 

'critical, error'




    

ignore_older

:

 

24h







  

- 

name

:

 

Microsoft-Windows-RemoteDesktopServices-SessionServices/Operational




    

level

:

 

'critical, error, warning'




    

ignore_older

:

 

24h







  

- 

name

:

 

Microsoft-Windows-RemoteApp and Desktop Connections/Operational




    

level

:

 

'critical, error, warning'




    

ignore_older

:

 

24h







  

- 

name

:

 

Microsoft-Windows-RemoteApp and Desktop Connections/Admin




    

level

:

 

'critical, error'




    

ignore_older

:

 

24h







  

# RemoteAssistance




  

- 

name

:

 

Microsoft-Windows-RemoteAssistance/Operational




    

level

:

 

'critical, error, warning'




    

ignore_older

:

 

24h







  

- 

name

:

 

Microsoft-Windows-RemoteAssistance/Admin




    

level

:

 

'critical, error'




    

ignore_older

:

 

24h







  

# RemoteAccess Management Client




  

- 

name

:

 

Microsoft-Windows-RemoteAccess-MgmtClientPerf/Operational




    

level

:

 

'critical, error'




    

ignore_older

:

 

24h







  

- 

name

:

 

Microsoft-Windows-RemoteAccess-MgmtClient/Operational




    

level

:

 

'critical, error'




    

ignore_older

:

 

24h







  

# RRAS




  

- 

name

:

 

Microsoft-Windows-RRAS/Operational




    

level

:

 

'critical, error'




    

ignore_older

:

 

24h







  

# VPN related




  

- 

name

:

 

Windows Networking Vpn Plugin Platform/OperationalVerbose




    

level

:

 

'critical, error'




    

ignore_older

:

 

24h







  

- 

name

:

 

Windows Networking Vpn Plugin Platform/Operational




    

level

:

 

'critical, error'




    

ignore_older

:

 

24h







  

- 

name

:

 

Microsoft-Windows-VPN/Operational




    

level

:

 

'critical, error, warning'




    

ignore_older

:

 

24h







  

- 

name

:

 

Microsoft-Windows-VPN-Client/Operational




    

level

:

 

'critical, error'




    

ignore_older

:

 

24h







  

- 

name

:

 

Microsoft-Windows-RasAgileVpn/Operational




    

level

:

 

'critical, error'




    

ignore_older

:

 

24h







  

# DeviceSync




  

- 

name

:

 

Microsoft-Windows-DeviceSync/Operational




    

level

:

 

'critical, error'




    

ignore_older

:

 

24h







  

# SettingSync




  

- 

name

:

 

Microsoft-Windows-SettingSync/Operational




    

level

:

 

'critical, error'




    

ignore_older

:

 

24h







  

- 

name

:

 

Microsoft-Windows-SettingSync/Debug




    

level

:

 

'critical'




    

ignore_older

:

 

24h







  

# SettingSync OneDrive




  

- 

name

:

 

Microsoft-Windows-SettingSync-OneDrive/Operational




    

level

:

 

'critical, error'




    

ignore_older

:

 

24h







  

- 

name

:

 

Microsoft-Windows-SettingSync-OneDrive/Debug




    

level

:

 

'critical, error'




    

ignore_older

:

 

24h







  

# SettingSync Azure




  

- 

name

:

 

Microsoft-Windows-SettingSync-Azure/Operational




    

level

:

 

'critical, error'




    

ignore_older

:

 

24h







  

- 

name

:

 

Microsoft-Windows-SettingSync-Azure/Debug




    

level

:

 

'critical, error'




    

ignore_older

:

 

24h







  

# As request by dennis




  

- 

name

:

 

Microsoft-Windows-Security-ExchangeActiveSyncProvisioning/Operational




    

level

:

 

'critical, error'




    

ignore_older

:

 

24h







  

# SmartCard TPM




  

- 

name

:

 

Microsoft-Windows-SmartCard-TPM-VCard-Module/Operational




    

level

:

 

'critical, error, warning'




    

ignore_older

:

 

24h







  

- 

name

:

 

Microsoft-Windows-SmartCard-TPM-VCard-Module/Admin




    

level

:

 

'critical, error'




    

ignore_older

:

 

24h







  

# SmartCard Infos




  

- 

name

:

 

Microsoft-Windows-SmartCard-DeviceEnum/Operational




    

level

:

 

'critical, error'




    

ignore_older

:

 

24h







  

# SmartCard Authentication




  

- 

name

:

 

Microsoft-Windows-SmartCard-Audit/Authentication




    

level

:

 

'critical, error, warning'




    

ignore_older

:

 

24h







  

# TerminalServices




  

- 

name

:

 

Microsoft-Windows-TerminalServices-ServerUSBDevices/Operational




    

level

:

 

'critical, error'




    

ignore_older

:

 

24h







  

- 

name

:

 

Microsoft-Windows-TerminalServices-ServerUSBDevices/Admin




    

level

:

 

'critical, error'




    

ignore_older

:

 

24h







  

- 

name

:

 

Microsoft-Windows-TerminalServices-RemoteConnectionManager/Operational




    

level

:

 

'critical, error'




    

ignore_older

:

 

24h







  

- 

name

:

 

Microsoft-Windows-TerminalServices-RemoteConnectionManager/Admin




    

level

:

 

'critical, error'




    

ignore_older

:

 

24h







  

- 

name

:

 

Microsoft-Windows-TerminalServices-RDPClient/Operational




    

level

:

 

'critical, error'




    

ignore_older

:

 

24h







  

- 

name

:

 

Microsoft-Windows-TerminalServices-Printers/Operational




    

level

:

 

'critical, error'




    

ignore_older

:

 

24h







  

- 

name

:

 

Microsoft-Windows-TerminalServices-Printers/Admin




    

level

:

 

'critical, error'




    

ignore_older

:

 

24h







  

- 

name

:

 

Microsoft-Windows-TerminalServices-PnPDevices/Operational




    

level

:

 

'critical, error'




    

ignore_older

:

 

24h







  

- 

name

:

 

Microsoft-Windows-TerminalServices-PnPDevices/Admin




    

level

:

 

'critical, error'




    

ignore_older

:

 

24h







  

- 

name

:

 

Microsoft-Windows-TerminalServices-LocalSessionManager/Operational




    

level

:

 

'critical, error'




    

ignore_older

:

 

24h







  

- 

name

:

 

Microsoft-Windows-TerminalServices-LocalSessionManager/Admin




    

level

:

 

'critical, error'




    

ignore_older

:

 

24h







  

- 

name

:

 

Microsoft-Windows-TerminalServices-ClientUSBDevices/Operational




    

level

:

 

'critical, error'




    

ignore_older

:

 

24h







  

- 

name

:

 

Microsoft-Windows-TerminalServices-ClientUSBDevices/Admin




    

level

:

 

'critical, error'




    

ignore_older

:

 

24h







  

- 

name

:

 

Microsoft-Windows-TerminalServices-Gateway/Admin




    

level

:

 

'critical, error'




    

ignore_older

:

 

24h







  

- 

name

:

 

Microsoft-Windows-TerminalServices-Gateway/Operational




    

level

:

 

'critical, error'




    

ignore_older

:

 

24h







  

- 

name

:

 

Microsoft-Windows-CloudStore/Operational




    

level

:

 

'critical, error'




    

ignore_older

:

 

24h




    

processors

:




      

- 

drop_event.when.or

:




        

# 1 is a very generic error, mostly onecoreuap\shell\cloudstore\store\cache\src\cloudcacheinitializer.cpp and it IS to noisy




        

- 

equals.winlog.event_id

:

 

1







  

- 

name

:

 

Microsoft-Windows-CloudStore/Debug




    

level

:

 

'critical, error'




    

ignore_older

:

 

24h







  

- 

name

:

 

Microsoft-Client-Licensing-Platform/Admin




    

level

:

 

'critical, error'




    

ignore_older

:

 

24h







  

- 

name

:

 

Microsoft-Windows-WebAuthN/Operational




    

level

:

 

'critical, error'




    

ignore_older

:

 

24h







  

- 

name

:

 

Microsoft-Windows-Winlogon/Operational




    

level

:

 

'critical, error'




    

ignore_older

:

 

24h







  

#windows update: https://github.com/palantir/windows-event-forwarding/blob/master/wef-subscriptions/Windows-Updates.xml




  

- 

name

:

 

Microsoft-Windows-WindowsUpdateClient/Operational




    

event_id

:

 

19

,

 

20

,

 

24

,

 

25

,

 

31

,

 

34

,

 

35




    

ignore_older

:

 

24h




    

level

:

 

error




    

provider

:




      

- 

Microsoft-Windows-WindowsUpdateClient







  

- 

name

:

 

Setup




    

event_id

:

 

1009




    

ignore_older

:

 

24h




    

level

:

 

info




    

provider

:




      

- 

Microsoft-Windows-Servicing







  

- 

name

:

 

Microsoft-Windows-User Profile Service/Operational




    

level

:

 

'critical, error'




    

ignore_older

:

 

24h







  

- 

name

:

 

Microsoft-Windows-User Device Registration/Admin




    

level

:

 

'critical, error'




    

ignore_older

:

 

24h







  

- 

name

:

 

Microsoft-Windows-Time-Service/Operational




    

level

:

 

'critical, error'




    

ignore_older

:

 

24h







  

# external devices: https://github.com/palantir/windows-event-forwarding/blob/master/wef-subscriptions/External-Devices.xml




  

- 

name

:

 

Microsoft-Windows-Kernel-PnP/Configuration




    

event_id

:

 

400

,

 

410




    

ignore_older

:

 

24h




    

level

:

 

info




    

provider

:




      

- 

Microsoft-Windows-Kernel-PnP







  

- 

name

:

 

Security




    

event_id

:

 

6416




    

ignore_older

:

 

24h




  

- 

name

:

 

Security




    

event_id

:

 

6419-6424




    

ignore_older

:

 

24h







  

# firewall: https://github.com/palantir/windows-event-forwarding/blob/master/wef-subscriptions/Firewall.xml




  

- 

name

:

 

Microsoft-Windows-Windows Firewall With Advanced Security/Firewall




    

event_id

:

 

2004

,

 

2005

,

 

2006

,

 

2033




    

ignore_older

:

 

24h




    

level

:

 

info, error




    

provider

:




      

- 

Microsoft-Windows-Windows Firewall With Advanced Security







  

- 

name

:

 

Security




    

event_id

:

 

4944-4954




    

ignore_older

:

 

24h







  

- 

name

:

 

Security




    

event_id

:

 

4956-4958




    

ignore_older

:

 

24h







  

- 

name

:

 

Security




    

event_id

:

 

5024

,

 

5025

,

 

5037




    

ignore_older

:

 

24h







  

- 

name

:

 

Security




    

event_id

:

 

5027-5030




    

ignore_older

:

 

24h







  

- 

name

:

 

Security




    

event_id

:

 

5032-5035




    

ignore_older

:

 

24h







  

# gpo errors: https://github.com/palantir/windows-event-forwarding/blob/master/wef-subscriptions/Group-Policy-Errors.xml




  

- 

name

:

 

System




    

event_id

:

 

1085

,

 

1125

,

 

1127

,

 

1129




    

ignore_older

:

 

24h




    

level

:

 

error




    

provider

:




      

- 

Microsoft-Windows-GroupPolicy







  

- 

name

:

 

Security




    

event_id

:

 

6144

,

 

6145




    

ignore_older

:

 

24h







  

# kerberos: https://github.com/palantir/windows-event-forwarding/blob/master/wef-subscriptions/Kerberos.xml




  

- 

name

:

 

Security




    

event_id

:

 

4768

,

 

4769

,

 

4770

,

 

4771

,

 

4772

,

 

4773




    

ignore_older

:

 

24h







  

# log deletion security: https://github.com/palantir/windows-event-forwarding/blob/master/wef-subscriptions/Log-Deletion-Security.xml




  

- 

name

:

 

Security




    

event_id

:

 

1102




    

ignore_older

:

 

24h




    

level

:

 

info




    

provider

:




      

- 

Microsoft-Windows-Eventlog







  

# log deletion system: https://github.com/palantir/windows-event-forwarding/blob/master/wef-subscriptions/Log-Deletion-System.xml




  

- 

name

:

 

System




    

event_id

:

 

104




    

ignore_older

:

 

24h




    

level

:

 

info




    

provider

:




      

- 

Microsoft-Windows-Eventlog







  

# msi: https://github.com/palantir/windows-event-forwarding/blob/master/wef-subscriptions/MSI-Packages.xml




  

- 

name

:

 

Application




    

event_id

:

 

1022

,

 

1033




    

ignore_older

:

 

24h




    

provider

:




      

- 

MsiInstaller







  

- 

name

:

 

Setup




    

event_id

:

 

2

,

 

0




    

ignore_older

:

 

24h




    

provider

:




      

- 

Microsoft-Windows-Servicing







  

- 

name

:

 

Microsoft-Windows-Application-Experience/Program-Inventory




    

event_id

:

 

903

,

 

904




    

ignore_older

:

 

24h




    

provider

:




      

- 

Microsoft-Windows-Application-Experience







  

- 

name

:

 

Microsoft-Windows-Application-Experience/Program-Inventory




    

event_id

:

 

905

,

 

906




    

ignore_older

:

 

24h




    

provider

:




      

- 

Microsoft-Windows-Application-Experience







  

- 

name

:

 

Microsoft-Windows-Application-Experience/Program-Inventory




    

event_id

:

 

907

,

 

908




    

ignore_older

:

 

24h




    

provider

:




      

- 

Microsoft-Windows-Application-Experience







  

- 

name

:

 

Microsoft-Windows-Application-Experience/Program-Inventory




    

event_id

:

 

800




    

ignore_older

:

 

24h




    

provider

:




      

- 

Microsoft-Windows-Application-Experience







  

# office: https://github.com/palantir/windows-event-forwarding/blob/master/wef-subscriptions/Microsoft-Office.xml




  

- 

name

:

 

OAlerts




    

ignore_older

:

 

24h







  

# ntml: https://github.com/palantir/windows-event-forwarding/blob/master/wef-subscriptions/NTLM.xml




  

- 

name

:

 

Microsoft-Windows-Authentication/AuthenticationPolicyFailures-DomainController




    

ignore_older

:

 

24h




    

provider

:




      

- 

Microsoft-Windows-NTLM







  

- 

name

:

 

Microsoft-Windows-Authentication/ProtectedUserFailures-DomainController




    

ignore_older

:

 

24h




    

provider

:




      

- 

Microsoft-Windows-NTLM







  

- 

name

:

 

Microsoft-Windows-NTLM/Operational




    

ignore_older

:

 

24h




    

provider

:




      

- 

Microsoft-Windows-NTLM







  

# object manipulation: https://github.com/palantir/windows-event-forwarding/blob/master/wef-subscriptions/Object-Manipulation.xml




  

- 

name

:

 

Security




    

event_id

:

 

4715

,

 

4817

,

 

4656

,

 

4658

,

 

4660

,

 

4663

,

 

4670




    

ignore_older

:

 

24h







  

# operating system: https://github.com/palantir/windows-event-forwarding/blob/master/wef-subscriptions/Operating-System.xml




  

- 

name

:

 

System




    

event_id

:

 

12

,

 

13




    

ignore_older

:

 

24h




    

provider

:




      

- 

Microsoft-Windows-Kernel-General







  

- 

name

:

 

Security




    

event_id

:

 

4608




    

ignore_older

:

 

24h







  

- 

name

:

 

System




    

event_id

:

 

1074




    

ignore_older

:

 

24h




    

provider

:




      

- 

USER32







  

- 

name

:

 

Security




    

event_id

:

 

4817

,

 

4826




    

ignore_older

:

 

24h







  

- 

name

:

 

System




    

event_id

:

 

16962

,

 

16965

,

 

16968

,

 

16969




    

ignore_older

:

 

24h







  

- 

name

:

 

Microsoft-Windows-SMBServer/Audit




    

event_id

:

 

3000




    

ignore_older

:

 

24h




    

provider

:




      

- 

Microsoft-Windows-SMBServer







  

- 

name

:

 

System




    

event_id

:

 

41

,

 

1001

,

 

6008

,

 

4621




    

ignore_older

:

 

24h







  

- 

name

:

 

Security




    

event_id

:

 

4610

,

 

4611

,

 

4614

,

 

4622

,

 

4697




    

ignore_older

:

 

24h







  

- 

name

:

 

Security




    

event_id

:

 

4719

,

 

4817

,

 

4902

,

 

4906

,

 

4908

,

 

4912

,

 

4904

,

 

4905




    

ignore_older

:

 

24h







  

# print: https://github.com/palantir/windows-event-forwarding/blob/master/wef-subscriptions/Print.xml




  

- 

name

:

 

Microsoft-Windows-PrintService/Operational




    

event_id

:

 

307




    

ignore_older

:

 

24h




    

level

:

 

info




    

provider

:




      

- 

Microsoft-Windows-PrintService







  

# privilege use: https://github.com/palantir/windows-event-forwarding/blob/master/wef-subscriptions/Privilege-Use.xml




  

- 

name

:

 

Security




    

event_id

:

 

4673

,

 

4674

,

 

4985




    

ignore_older

:

 

24h







  

# process exec: https://github.com/palantir/windows-event-forwarding/blob/master/wef-subscriptions/Process-Execution.xml




  

#- name: Security




  

#  event_id: 4688




  

#  ignore_older: 24h




  

- 

name

:

 

Security




    

event_id

:

 

4689




    

ignore_older

:

 

24h







  

# registry: https://github.com/palantir/windows-event-forwarding/blob/master/wef-subscriptions/Registry.xml




  

# TODO: how to filter on eventdata operationtype?




  

- 

name

:

 

Security




    

event_id

:

 

4657




    

ignore_older

:

 

24h







  

# services: https://github.com/palantir/windows-event-forwarding/blob/master/wef-subscriptions/Services.xml




  

- 

name

:

 

System




    

event_id

:

 

7022

,

 

7023

,

 

7024

,

 

7026

,

 

7031

,

 

7032

,

 

7034




    

ignore_older

:

 

24h




    

level

:

 

info, critical, error, warning




    

provider

:




      

- 

Service Control Manager







  

- 

name

:

 

System




    

event_id

:

 

7045

,

 

7040




    

ignore_older

:

 

24h




    

level

:

 

info, critical, error, warning




    

provider

:




      

- 

Service Control Manager







  

# shares: https://github.com/palantir/windows-event-forwarding/blob/master/wef-subscriptions/Shares.xml




  

- 

name

:

 

Security




    

event_id

:

 

5140

,

 

5142

,

 

5144

,

 

5145

,

 

5168




    

ignore_older

:

 

24h







  

- 

name

:

 

Microsoft-Windows-SMBClient/Operational




    

event_id

:

 

30622

,

 

30624




    

ignore_older

:

 

24h







  

# software restrictions: https://github.com/palantir/windows-event-forwarding/blob/master/wef-subscriptions/Software-Restriction-Policies.xml




  

- 

name

:

 

Application




    

event_id

:

 

865

,

 

866

,

 

867

,

 

868

,

 

882




    

ignore_older

:

 

24h




    

provider

:




      

- 

Microsoft-Windows-SoftwareRestrictionPolicies







# General processors




processors

:




  

- 

add_host_metadata

:

 

~




  

- 

add_cloud_metadata

:

 

~




  

- 

add_docker_metadata

:

 

~







# Add JS Infos




processors

:




  

- 

script

:




    

when.equals.winlog.channel

:

 

Security




    

lang

:

 

javascript




    

id

:

 

security




    

file

:

 

${path.home}/module/security/config/winlogbeat-security.js







processors

:




  

- 

script

:




    

when.equals.winlog.channel

:

 

Microsoft-Windows-Sysmon/Operational




    

lang

:

 

javascript




    

id

:

 

sysmon




    

file

:

 

${path.home}/module/sysmon/config/winlogbeat-sysmon.js







  

- 

script

:




    

when.equals.winlog.channel

:

 

Microsoft-Windows-Sysmon




    

lang

:

 

javascript




    

id

:

 

sysmon




    

file

:

 

${path.home}/module/sysmon/config/winlogbeat-sysmon.js







processors

:




  

- 

script

:




    

when.equals.winlog.channel

:

 

Windows PowerShell




    

lang

:

 

javascript




    

id

:

 

powershell




    

file

:

 

${path.home}/module/powershell/config/winlogbeat-powershell.js







  

- 

script

:




    

when.equals.winlog.channel

:

 

Microsoft-Windows-PowerShell/Operational




    

lang

:

 

javascript




    

id

:

 

powershell




    

file

:

 

${path.home}/module/powershell/config/winlogbeat-powershell.js







  

- 

script

:




    

when.equals.winlog.channel

:

 

Microsoft-Windows-PowerShell/Admin




    

lang

:

 

javascript




    

id

:

 

powershell




    

file

:

 

${path.home}/module/powershell/config/winlogbeat-powershell.js







  

- 

script

:




    

when.equals.winlog.channel

:

 

Microsoft-Windows-PowerShell




    

lang

:

 

javascript




    

id

:

 

powershell




    

file

:

 

${path.home}/module/powershell/config/winlogbeat-powershell.js







  

- 

script

:




    

when.equals.winlog.channel

:

 

Microsoft-Windows-Shell-Core




    

lang

:

 

javascript




    

id

:

 

powershell




    

file

:

 

${path.home}/module/powershell/config/winlogbeat-powershell.js







  

- 

script

:




    

when.equals.winlog.channel

:

 

PowerShellCore/Operational




    

lang

:

 

javascript




    

id

:

 

powershell




    

file

:

 

${path.home}/module/powershell/config/winlogbeat-powershell.js







  

- 

script

:




    

when.equals.winlog.channel

:

 

PowerShellCore




    

lang

:

 

javascript




    

id

:

 

powershell




    

file

:

 

${path.home}/module/powershell/config/winlogbeat-powershell.js



There are a few things to keep in mind:
Do not just copy the file and use it! Read it and customize it for you own systems
Replace "XXX.XXX.XXX.XXX:XXXX" with you logging host, with port!
The config is based on YAML! Mind the spaces! Use a good editor that supports YAML checks (I recommend VSCode)
Use the config file from the dedicated GitHub Repository. The config above is more meant as a showcase for this article!
Thanks to @Mokkujin for the huge support and @psteder for the feedback and testing!